Experience authentic Mexican cuisine with L.A.'s flare in the heart of Miracle Mile
BOOK YOUR NEXT EVENT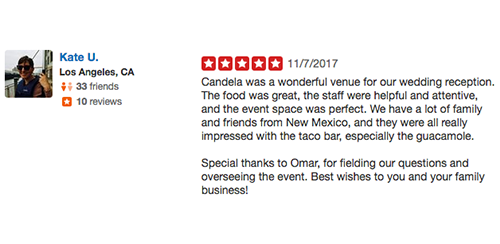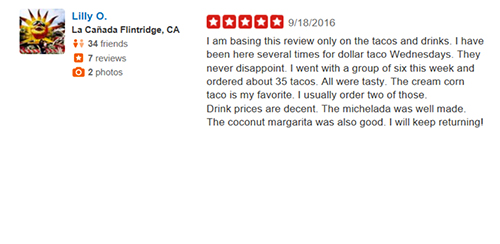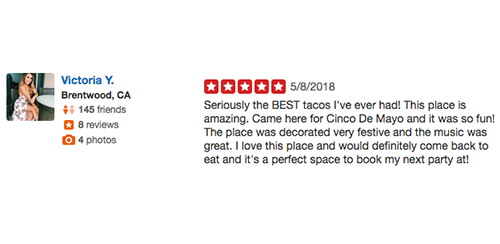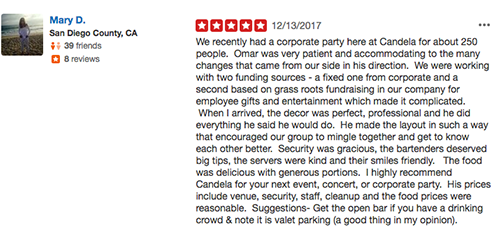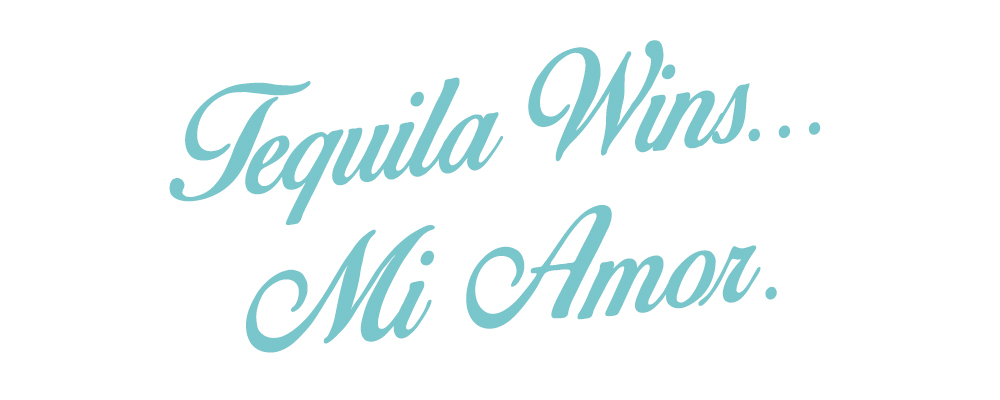 Corporate Party Venue in West Los Angeles
Clients in and around the West Los Angeles area have chosen Candela Taco Bar & Lounge for our corporate party venue services because of our dedication to our customers, skills, and our experience. Our goal is to succeed with each client in a manner we can be proud of. That is why we place such a focus on our customer service.
Corporate party venue services need to serve a specific role, and here at Candela Taco Bar & Lounge we have been crafting and changing ours for Many Years to fit the needs of all our clients. When you need to find a premier corporate party venue service provider, look no further than Candela Taco Bar & Lounge. Our experience, reputation, and skills have allowed numerous West Los Angeles clients to choose us as their provider.
Thanks to our ability to listen to our customers, Candela Taco Bar & Lounge has earned a reputation for putting the needs of their clients first. We have Many Years providing corporate party venue services to West Los Angeles residents. Candela Taco Bar & Lounge has the expertise and know-how to make sure you will be satisfied with our services.
Our team of professionals is standing by to help you with your corporate party venue matters. If you are from the West Los Angeles area, call us at Candela Taco Bar & Lounge today. With a focus on customer service, years of experience, and a sound reputation trust us to provide you with the best corporate party venue services.
Candela Taco Bar & Lounge
831 South La Brea Ave
Los Angeles, CA 90036
(323) 936-0533
Related Articles:
Affordable Banquet Halls in Los Angeles CA
,
Birthday Party Places in Miracle Mile CA
,
Birthday Party Venues in La Brea CA
,
Catering Restaurants in Culver City CA
,
Concert in Santa Monica CA
,
Quinceanera in Beverly Hills CA
,
Restaurants That Cater in Beverly Hills CA
,
Restaurants with Private Rooms in La Brea CA
,
Taco Places in Culver City CA
,
Wedding Reception Venues in Culver City CA
, VENUE
831 SOUTH LA BREA AVE
LOS ANGELES, CA 90036
323-936-0533
EVENTS
OMAR@CANDELALABREA.COM
323-936-0533
PRESS
MARIA@CANDELALABREA.COM
323-936-0533
MON, TUES, THURS, SUN 4PM-11PM • $1 TACO WEDNESDAY 11:30AM-12AM • HAPPY HOUR EVERY DAY (EXCLUDING WEDNESDAY'S) 4PM-7PM • FRI, SAT 4PM-12AM • VENUE HOURS OPEN 7 DAYS A WEEK (INQUIRY ABOUT AVAILABILITY)